Today at work we girls had our Christmas lunch - I had a HUGE Italian salad - lettuce, cucumber, tomato, onion, pepperoni, bacon, provolone and blue cheese dressing - it was Delicious! everyone else had the amazing meatball & mozzarella sandwich on garlic bread - ya it is amazing.
The girls are great ... whenever stuff annoys me I stop to remind myself how lucky I am to work with such lovely people!
I got them all a box of German boozy cherry chocolates, a jar of my AMAZING coffee vanilla liqueur, cute little Christmas trees soaps I got a a little soap shop in Kenosha, Wisconsin - wrapped them up in a plain brown paper bag and tied on a glittery Merry Christmas ornaments with some culling ribbon - yea, I am all about the bow! sorry -no photos as I wrapped them in the car on my way to work - just call me mayhem - lol... no no, I have plenty of time at the stoplights... 1 hour to drive 16 miles - insanity - right? ha ha hoo hoo hee hee =D
I LOVE all my gifts - seriously!!!
festive stuff - a jingly charm bracelet charm, snowman pin and this ornament - love love love it... it is a origami crane hanging inside a glass figural glass bauble, with white sequins, pink metallic stands and a pink confetti piece that says "celebrate" with pink and silver bow topped with a tiny pink candy cane - love it
cute Vera Bradley organizer cute and so light weight - I totally NEED help with organizing & lightening my load with all my traveling - home, work, home away for home, visiting family . where is my home again!?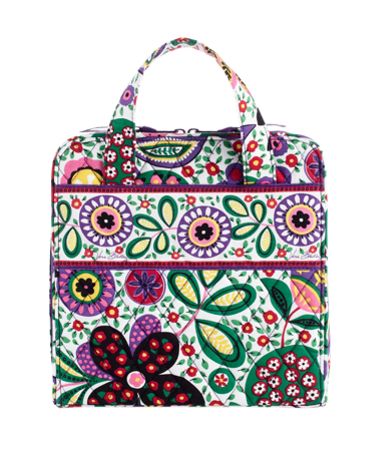 viva la vera
a box of amazing sugar free chocolates - YUM!!!
I have been sO missing candy with my new restricted diet (Dr's orders - no wheat or refined sugar - you know they put that stuff in like everything <sigh> had they told me no coffee - surely I would have run out of the office screaming) - I did not know such a thing existed! wonderful - gonna savor those...
gotta take off t
hese bells and take care of my sick hubby - ear infection, fever, maybe pneumonia... poor kid...
Hope you all are taking extra time to appreciate life -relax and enjoy some time with friends and family
♥